Pineapple tarts are a popular snack enjoyed by many during festive seasons, especially Chinese New Year and Hari Raya.
Yet many of us aren't sure what's the significance of these addictive Chinese New Year staple.
Read on to find out why pineapple tarts are so popular in Singapore, and where you can buy them.
What Are Pineapple Tarts?
Pineapple tarts are addictive bite-sized buttery goodies filled with pineapple jam.
Made with butter and egg yolk, it has a crumbly, melt-in-your-mouth texture which is loved by many Singaporeans.
Its jam is usually sweet yet tart, and often made with fresh pineapples.
Some brands, like Mdm Ling Bakery, have even added their own unique spin on it by adding cranberries for an added twist.
Why Are Pineapple Tarts So Popular?
Pineapples are called "ong lai" in Hokkien and Cantonese, which literally translates to "fortune come," hence their popularity during the Lunar celebrations.
It is considered lucky to have them during Chinese New Year, and giving pineapple tarts as gifts symbolises good fortune and luck.
However, while often seen during Chinese New Year, these delights are also enjoyed during cultural celebrations such as Hari Raya Puasa and Deepavali.
Many versions, such as Mdm Ling Bakery's are also Halal-certified, making them very popular among corporate customers looking to give gifts or hampers to their staff.
So go ahead and get some pineapple tarts for your loved ones this CNY to wish them a prosperous 2023!
Types Of Pineapple Tarts
While there are many variations, most are just aesthetic rather signifying anything special.
Many however, might choose to select a specific variation depending on the tart to jam ratio.
Pineapple Balls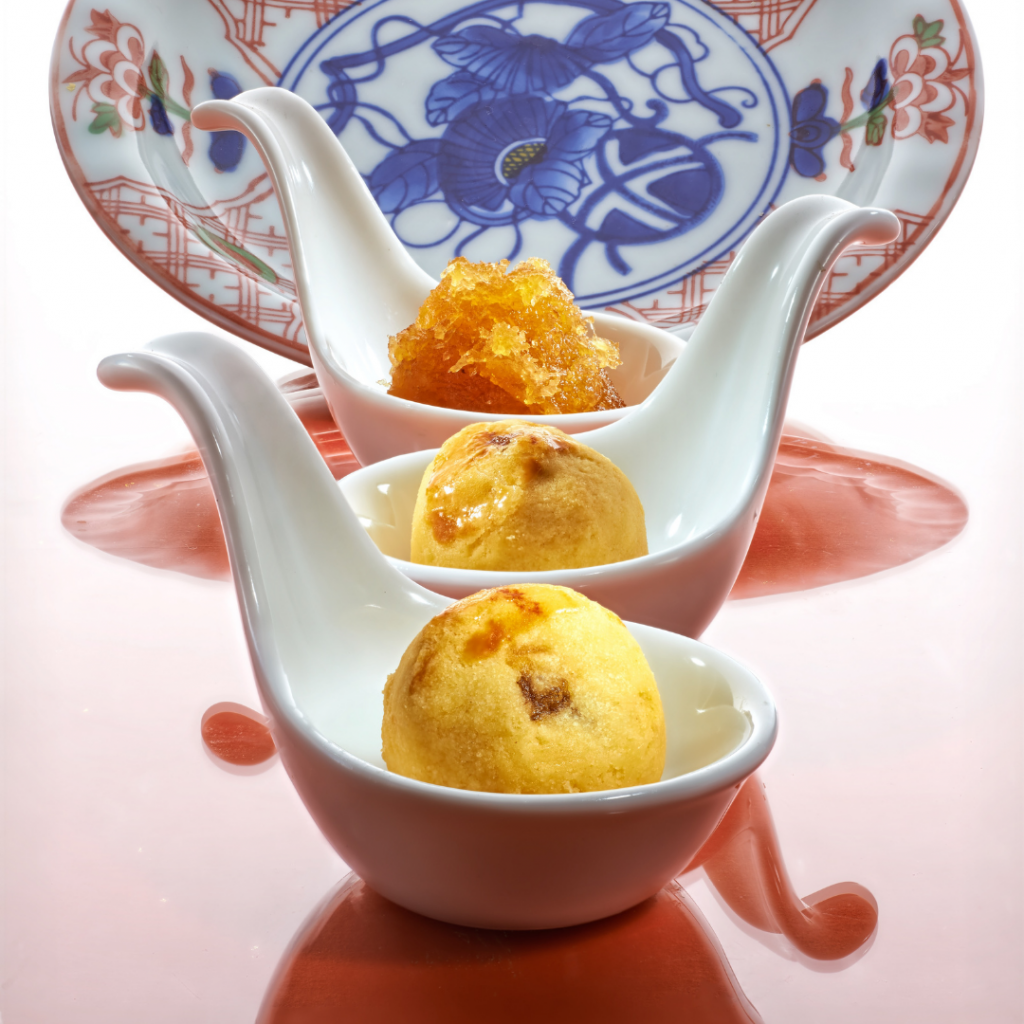 Known as 'Golf Balls', the sweet jam is nowhere to be seen as they are enveloped by the rich pastry.
Occasionally, you might spot a criss-cross or leaf pattern on the top of the pastry for decorative purposes.
Pineapple Tarts (Open Faced)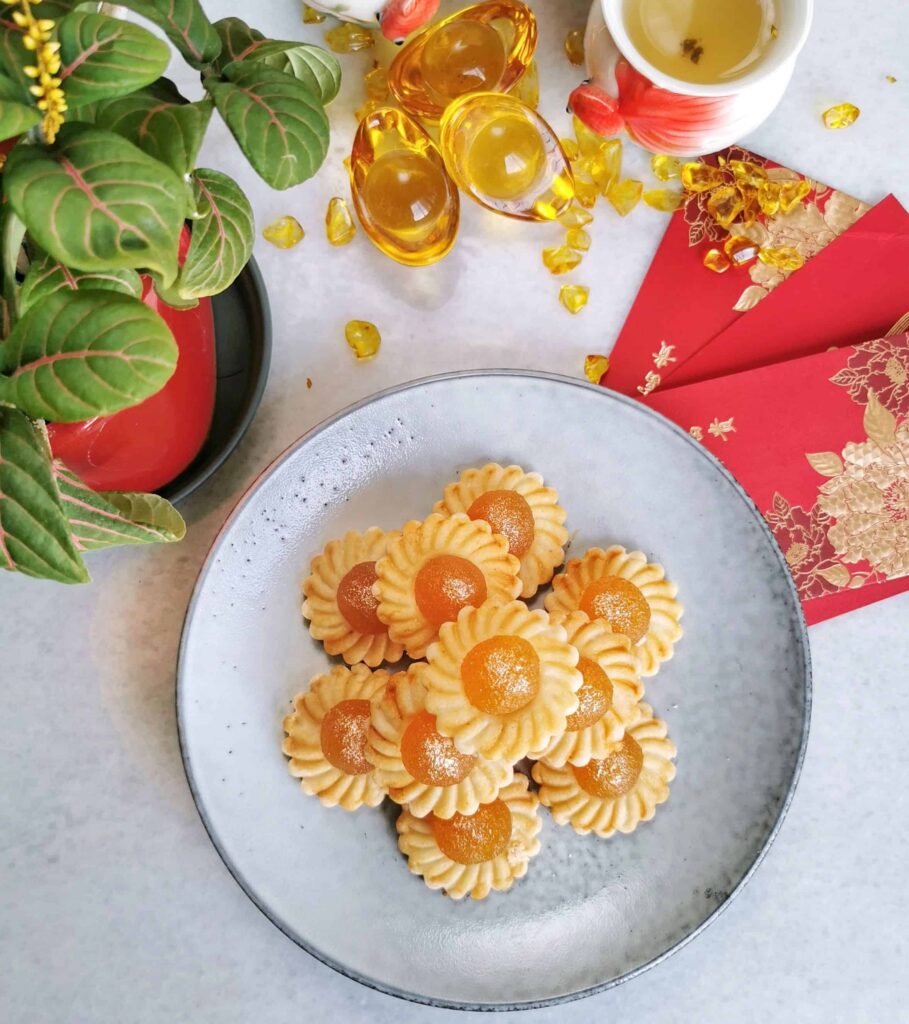 Unlike the enclosed ones, the open-faced pineapple tarts tend to be flower shaped.
The pineapple jam is exposed and sitting on a bed of buttery crust.
These are great if you like to eat the jam before the pastry.
Pineapple Rolls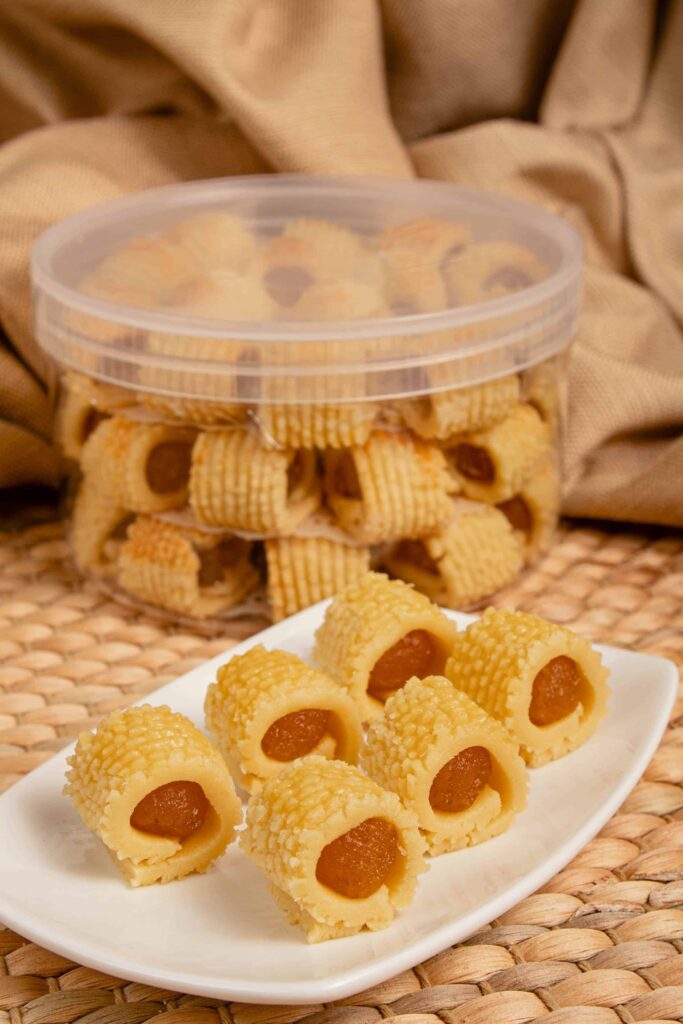 This version has a cylindrical appearance and the jam is rolled into a log, with two exposed ends.
The dough pastry often is piped through a mould into long strips.
Taiwan Pineapple Cake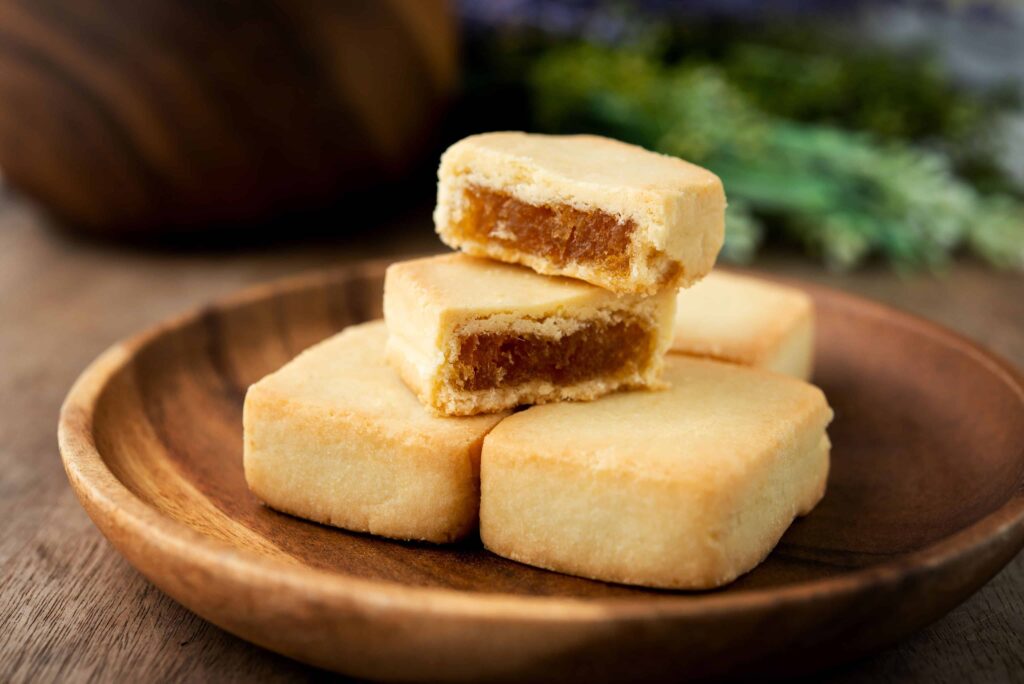 These pineapple cakes are a pastry and dessert from Taiwan, and not as commonly seen in Singapore.
It is typically square or rectangle, with pineapple filling encased in shortbread.
History Of Pineapple Tarts
The Peranakan Nyonyas in Malaysia adopted Portuguese baking techniques when they were occupied by the Portuguese Empire in the 1500s.
These techniques, coupled with the large number of pineapple plantations in Malaya soon birthed the first pineapple tarts.
This technology transfer has resulted in our tarts having a melt-in-your-mouth, crumbly texture with savoury undertones from the salted butter in the dough.
Where To Get The Best Pineapple Tarts In Singapore?
You can find them at supermarkets or online bakeries such as Mdm Ling Bakery.
Mdm Ling Bakery also offers free delivery for orders above $88, so you can mix and match their best-selling goodies and get them delivered conveniently to your doorsteps.
In addition, online bakeries will let you take advantage of their early bird sales and reserve your favourites, while allowing you to choose your preferred delivery date closer to Chinese New Year.
And if time is of the essence, then you could also order via Grab or Shopee too!
Not to forget, Takashimaya's annual Chinese New Year fair, where you can try samples before purchasing!
So hurry and order now before these pineapple tarts sell out!
Don't miss out also: