Welcome to Mdm Ling Bakery, where the magic of Mid-Autumn Festival comes alive with our exquisite mooncake collection.
As the air fills with a sense of celebration, we are thrilled to unveil our 16 delectable mooncake flavours for 2023, one of the best in Singapore.
Embracing the spirit of inclusivity, our mooncakes cater to diverse palates and preferences, including Halal certified and vegetarian mooncakes, making them great as gifts.
Each mooncake is a testament to our passion for crafting unforgettable delights that will captivate your taste buds and warm your hearts.
And don't miss your chance to enjoy up to 40% off and free delivery in Singapore with our Early Bird specials!
You can even lock in these exclusive discounts now, and choose a later delivery date to suit your convenience.
Unique & Traditional Mooncake Flavours
We've got 5 sets for you to choose form, to leave you and your loved ones spoilt for choice!
Premium Traditional Baked with White Lotus Paste
Embrace the nostalgia of tradition with our Traditional Baked Mooncakes
Each bite offers an enchanting blend of sweetness and a hint of savouriness, reminiscent of the Mid-Autumn gatherings of yesteryears as you embrace timelessness.
Traditional White Lotus with Melon Seeds
Crafted with a time-honored recipe, this mooncake features a smooth lotus paste generously filled with crunchy melon seeds.
A delightful blend of tradition and taste that will satisfy even the most discerning palates.
Traditional White Lotus with Melon Seeds and Salted Yolk
For a touch of savoury goodness, try our Traditional White Lotus with Melon Seeds and Salted Yolk mooncake.
A Halal certified and vegetarian delight that combines the richness of lotus paste with the golden yolk's lusciousness, elevating the mooncake experience to new heights.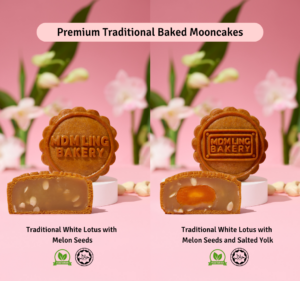 Signature Assorted Baked Mooncakes
Savour the symphony of flavours in our Signature Assorted Baked Mooncakes.
With every indulgence, you'll embark on a taste journey that transcends the ordinary with these unique flavoured mooncakes.
Black Sesame Peanut Butter
The nutty aroma of black sesame combined with the creamy richness of peanut butter creates a symphony of flavors that will leave you craving for more.
Red Dates Longan
Experience the enchanting combination of sweetness and natural goodness with our Red Dates Longan mooncake.
The sweetness of red dates complements the succulent longan, making this mooncake a delightful treat that embodies the essence of the Mid-Autumn Festival.
Belgian Double Chocolate
For all the chocolate lovers out there, our Belgian Double Chocolate mooncake is a dream come true.
Embrace the decadent fusion of rich Belgian chocolate, creating a velvety smooth mooncake that will melt in your mouth.
Emerald Pandan Golden Yolk
Immerse yourself in the lush flavors of our Emerald Pandan Golden Yolk mooncake.
The vibrant green pandan-infused skin encases a golden yolk, presenting a tantalising blend of colours and tastes that captivate both the eyes and the palate.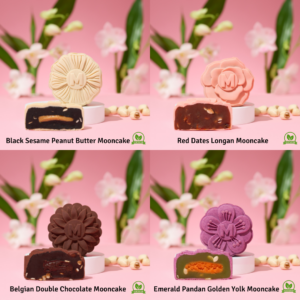 Fruity Truffle Snow Skin Mooncakes (New)
Experience our latest innovation, the Fruity Truffle Snowskin Mooncakes!
These fruity truffles are a celebration of vibrancy, adding a refreshing twist to your usual Mid-Autumn festivities.
These newly released unique mooncakes will delight all ages, and are available only in our Joyful Blooms Tin.
Popping Candy Truffle
Get ready for a surprise with our Popping Candy Truffle snowskin mooncake.
This unique creation combines the crackling sensation of popping candy with the delectable truffle filling, creating a burst of excitement with every bite.
Yuzu Truffle
The refreshing citrus flavor paired with the smooth truffle filling creates a harmonious balance that delights the taste buds.
Lychee Truffle
The luscious lychee flavour combined with the creamy truffle filling offers a tropical delight that will transport you to exotic destinations.
Peach & Passion Fruit Truffle
The fruity and tangy flavors dance on your tongue, creating a delightful celebration of taste.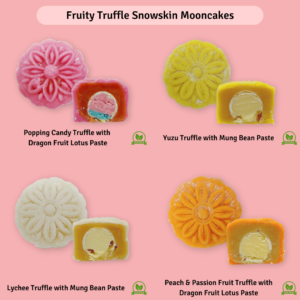 Handcrafted Flaky Teochew Orh Nee Mooncakes
At Mdm Ling Bakery, our Flaky Teochew Orh Nee Mooncakes are a true masterpiece.
Freshly handcrafted with love, each mooncake will entice and delight, thanks to our recipe which has been perfected for over 30 years.
Savour the velvety smoothness of yam paste encased in delicate, buttery layers – a heavenly feeling that embodies the essence of Teochew culinary heritage.
This labour intensive delight is available only at our physical booths.
Flaky Teochew Orh Nee
Immerse yourself in the artisanal craftsmanship of our Flaky Teochew Orh Nee mooncake.
This handmade specialty pays homage to the rich culinary heritage of Teochew cuisine, featuring layers of delicate, buttery pastry encasing velvety smooth yam paste.
Flaky Teochew Orh Nee with Salted Yolk
For an extra indulgence, try our Flaky Teochew Orh Nee with Salted Yolk mooncake.
The luscious yam paste is complemented by the savory touch of salted yolk, creating a perfect balance of flavours.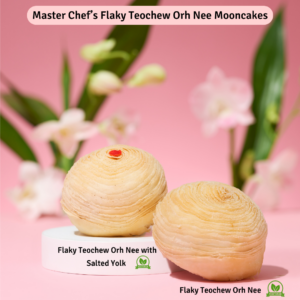 Kueh Lapis Mooncakes
Embrace the harmonious blend of tradition and modernity with our Kueh Lapis Mooncakes.
These mooncakes are inspired by the beloved Indonesian delicacy and showcase our dedication to creating unique and delightful treats.
Original
Each bite unveils the rich, aromatic layers of traditional Kueh Lapis, crafted to perfection with a harmonious blend of spices.
Savour the unique texture and taste of this classic delicacy, handcrafted with love and care.
Pandan
Infused with the natural essence of pandan leaves, this mooncake offers a delightful twist to the traditional recipe.
The vibrant green layers and refreshing aroma will transport you to a tropical paradise of flavours.
Chocolate
Experience the marriage of rich, velvety chocolate with the alluring spiciness of Kueh Lapis.
With every bite, savour the decadent fusion of two beloved indulgences that will leave your taste buds yearning for more.
Coffee
This delightful creation infuses the captivating aroma and bold flavor of coffee into the layers of Kueh Lapis.
The perfect treat for coffee lovers, it offers a harmonious balance of sweetness and a touch of java bliss.
Early Bird Specials: Save Up to 40% Off
As we gear up for the Mid-Autumn Festival, we invite you to join the festivities with Mdm Ling Bakery.
And now's the best time too as you can save up to 40% off with our Mid-Autumn Early Bird specials.
Make your selection from our exquisite range, and elevate your celebrations with our delectable offerings.
You can even order now and choose a later delivery date, ensuring that your celebrations are adorned with the finest mooncakes,
But don't wait too long because this promotion is while stocks last.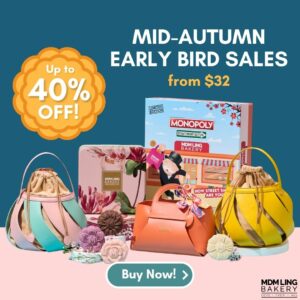 Where to Buy Mid Autumn Mooncakes in 2023
With 16 flavours and 8 sustainably gift sets, Mdm Ling Bakery will have you spoilt for choice.
You can either cart out your mooncakes at our website or head to one of our booths at Takashimaya, VivoCity, Nex and more!
Alternatively Mdm Ling Bakery's ooncakes are also available on Shopee, Grab or Tik Tok shop.
So cart out now before you're left with your second choice!