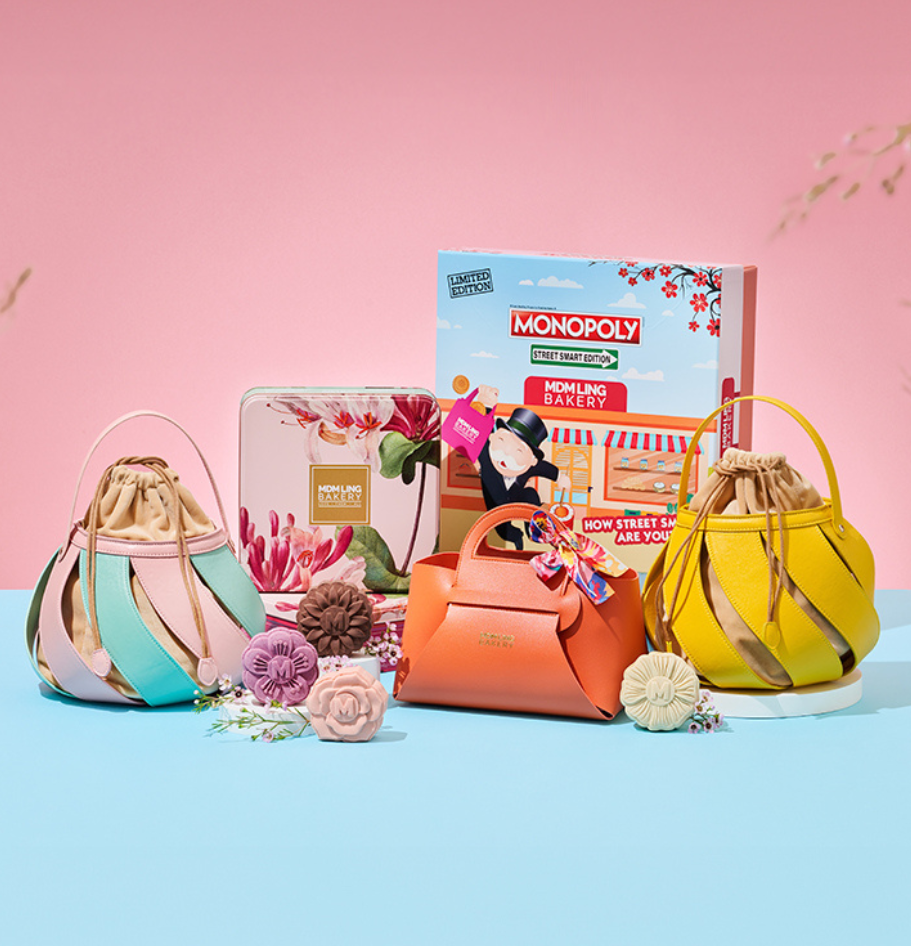 Welcome to the world of Mdm Ling Bakery, where tradition meets innovation!
Get ready to be captivated by our latest creation – Lantern-Inspired Mooncake Bucket Bags that are guaranteed to make your Mid-Autumn Festival shine even brighter.
Join us on this extraordinary journey and experience the perfect blend of heritage and creativity with Mdm Ling Bakery's Lantern-Inspired Mooncake Bags.
The Tradition of Mooncakes and Lanterns
Prepare to be dazzled by the enchanting fusion of tradition and innovation with Mdm Ling Bakery's lantern-inspired mooncake bags.
These delectable treats, often filled with flavoursome white lotus paste and a golden yolk, are a hallmark of this festive occasion.
But Mdm Ling Bakery takes it a step further, presenting their mooncakes in mesmerising lantern-inspired bags that are sure to captivate both the young and the young at heart.
Imagine carrying the elegant Minty Rose Mooncake Bucket Bag, adorned with delicate floral motifs in soft hues.
Or perhaps indulge in the Flora Duo Mooncake Box, a true visual feast featuring intricate floral patterns inspired by nature's beauty.
With these lantern-inspired mooncake bags, Mdm Ling Bakery adds an extra layer of joy and excitement to the Mid-Autumn festivities.
Whether you're looking to indulge in the delectable mooncakes or simply admire their mesmerising packaging, these bags are a feast for the eyes and a delightful addition to any celebration.
The significance of lanterns in Chinese culture
Lanterns have been a significant symbol in Chinese culture for centuries, with their significance often intertwined with the celebration of the Mid-Autumn Festival and the traditional delicacy of mooncake.
This delectable treat, typically enjoyed during the festival, holds special meaning for families who come together to admire the moon and share these delicious pastries.
Mdm Ling Bakery has taken this cultural tradition further by introducing their unique Lantern-Inspired Mooncake Bags, which add an extra touch of charm to the festivities.
For those looking for a more regal touch, Mdm Ling Bakery offers the Royal Blue Duo Mooncake Box and the Moon Yellow Mooncake Bucket Bag.
These luxurious options exude elegance with their rich colours and intricate detailing.
These bags add an inclusive element, ensuring that everyone can partake in the joyous spirit of the Mid-Autumn Festival, especially with Mdm Ling Balery's Halal-certified and vegetarian mooncakes.
The Inspiration Behind Mdm Ling Bakery's Designs
Step into a world where creativity and tradition collide, as Mdm Ling Bakery presents their unique and mesmerising designs inspired by the enchanting beauty of lanterns.
At the heart of their artistry lies a deep-rooted passion for crafting exquisite mooncake bags that are more than just packaging – they are gifts of love and tradition.
Each bag is meticulously crafted with intricate details, capturing the essence of the lotus petals, and serves as a stunning testament to the craftsmanship of their team.
These mooncake bags, with their vibrant colours and eye-catching patterns, are not only a delight to behold but also a treasured keepsake that adds a touch of magic to the gifting experience.
So, if you're looking to elevate your gifting game and leave a lasting impression, look no further than Mdm Ling Bakery's lantern-inspired mooncake bags.
Conclusion
In conclusion, the tradition of mooncakes and lanterns holds a special place in Chinese culture, symbolising joy and unity.
Mdm Ling Bakery's lantern-inspired mooncake bags beautifully capture the essence of this tradition, showcasing intricate craftsmanship and attention to detail.
Additionally, Mdm Ling Bakery offers a wide array of flavours for their mooncakes, providing a delightful culinary experience for everyone.
Celebrate the season with Mdm Ling Bakery's exquisite mooncakes and embrace the joy and tradition they represent.