Many in Singapore associate the Mooncake Festival with giving mooncakes, displaying lanterns and family gatherings.
Yet many of us are also unaware of the history behind it.
Read on and find out all you need to know about the festival also known as Mid-Autumn Festival (MAF).
History Of The Mooncake Festival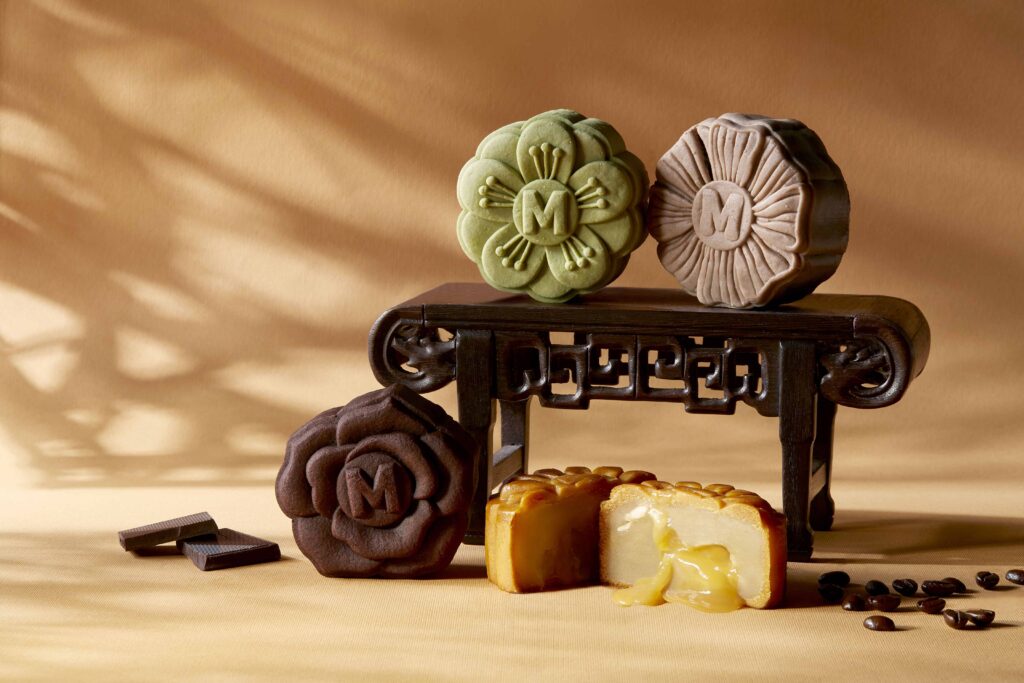 With a history of over 3,000 years, there are many variations on the Mid-Autumn Festival's origins.
Nevertheless, the most well-known version is the one which commemorates Chang'E's bravery and ascendency to the moon.
It began when Chang'E's husband was rewarded with an elixir of immortality after he saved the earth.
But Chang'E swallowed it and ascended to the moon to prevent an apprentice from stealing and abusing the elixir.
When her husband discovered the tragedy, he began to offer flowers and fruit to his wife on the Moon.
To commemorate Chang'E for her bravery, many people began to pay tribute and it evolved into a tradition of Moon Goddess Worship on the day of Mid-Autumn Festival.
When Is Mooncake Festival Celebrated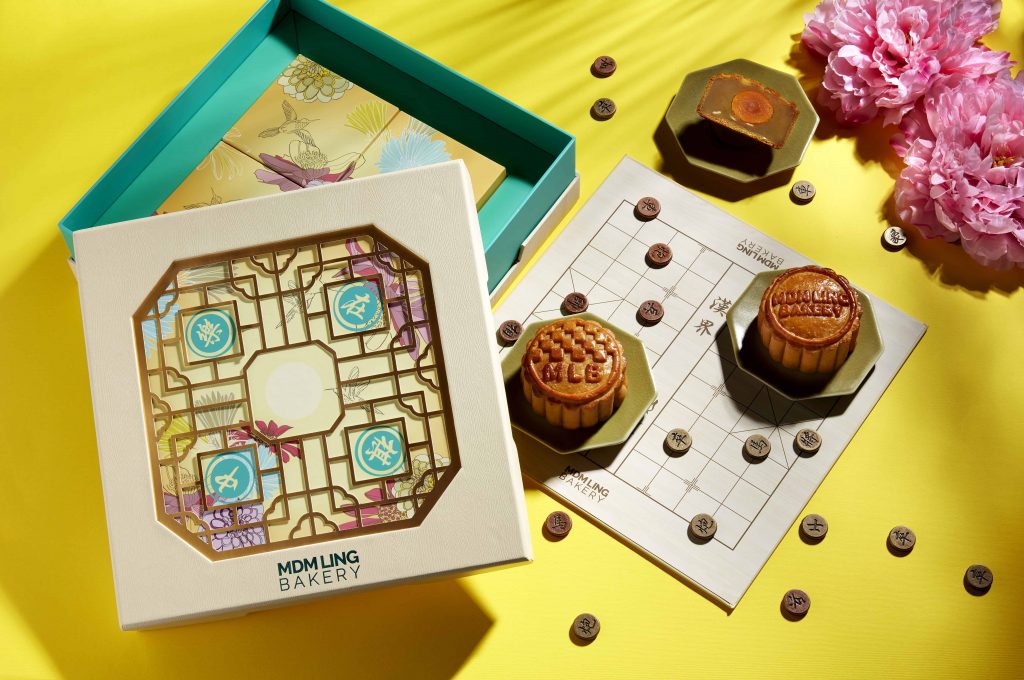 The 2022 Mooncake Festival is on 10th September.
It traditionally falls on the 15th day of the eighth month of the Lunar calendar, which is between September and early October.
It marks the end of the Autumn Harvest and the Hungry Ghost Festival.
How Do People Celebrate Mooncake Festival In Singapore
Gifting And Eating Mooncakes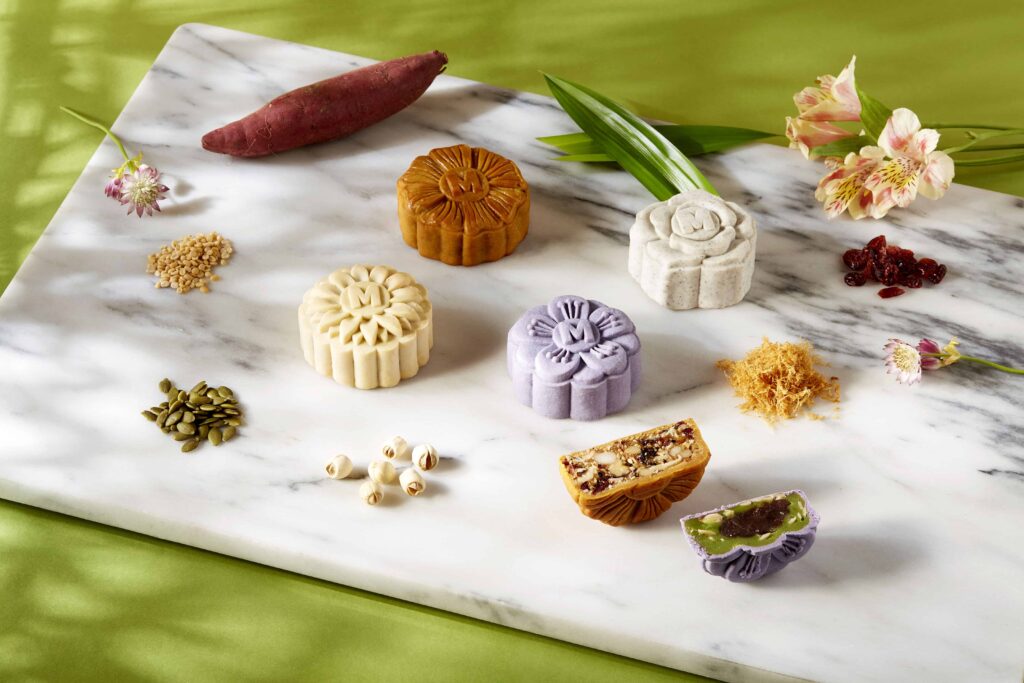 While mooncakes were used to worship the moon and celebrate family reunions, they have evolved to represent relationships between loved ones, colleagues and business associates.
Some even begin their mooncake shopping 3 months before the festival, to reserve their favourite flavours and boxes as the popular ones can sell out fast.
Types Of Mooncake Boxes
Especially with an emphasis on sustainability, it is no longer enough for brands to offer simple boxes which can only double up as storage sets.
Instead, there is now an increased demand for more intricately designed and innovative boxes, such as Mdm Ling Bakery's Game Boxes.
These creative mooncake boxes can double up as board games, which are perfect for bonding moments with your loved ones, and will make great gifts too.
You'll also play your part to reduce waste since you can use these Game Boxes as board games too.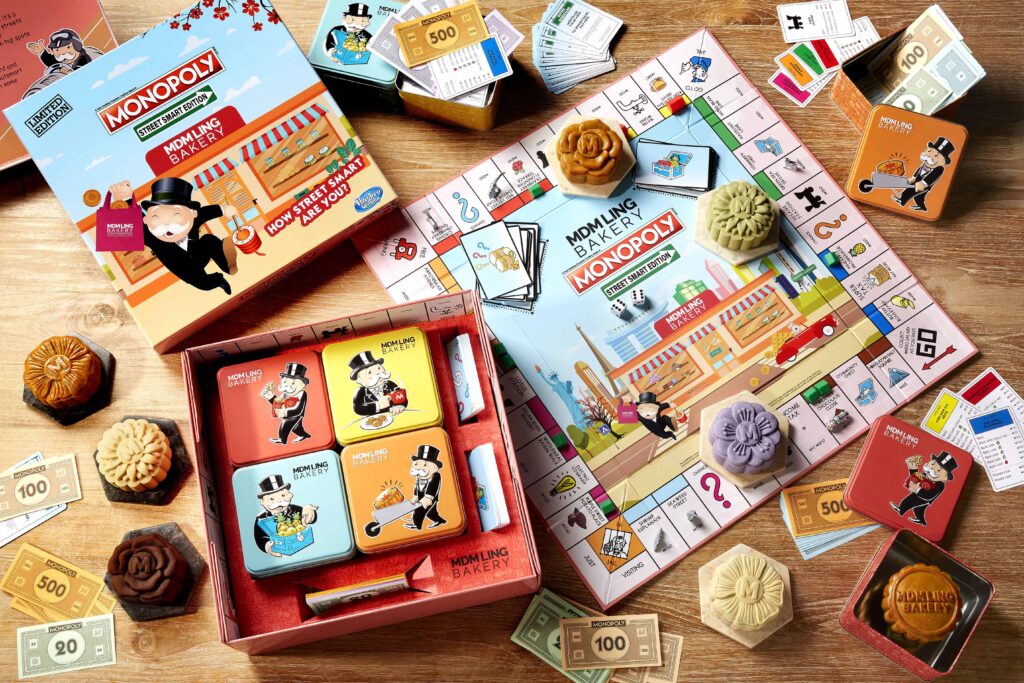 While previous years included Chinese Chess and Snakes & Ladders variations, Mdm Ling Bakery has since introduced a limited edition Monopoly Street Smart Mooncake Game Box, thanks to their collaboration with Hasbro.
The first-of-its-kind concept is inspired by the most beautiful streets in the world and the iconic mooncake box can transform into a Monopoly game board set.
Past versions are no slouch either, with their Chinese Chess Box winning in the Sales & Display Product Category at the 2021 Singapore Packaging Star Award.
With such unique boxes, your gifts will surely stand out from the rest!
Mooncake Flavours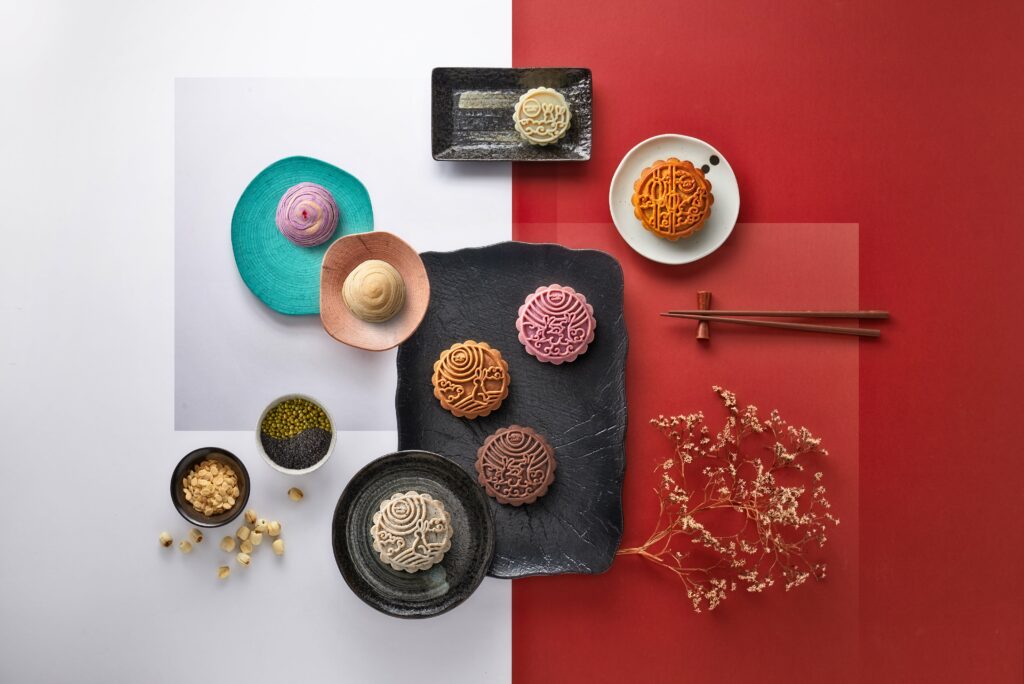 From the traditional lotus paste mooncakes with salted egg to the contemporary versions with unique fillings, you can definitely find one that satisfies your taste buds.
Traditional Mooncakes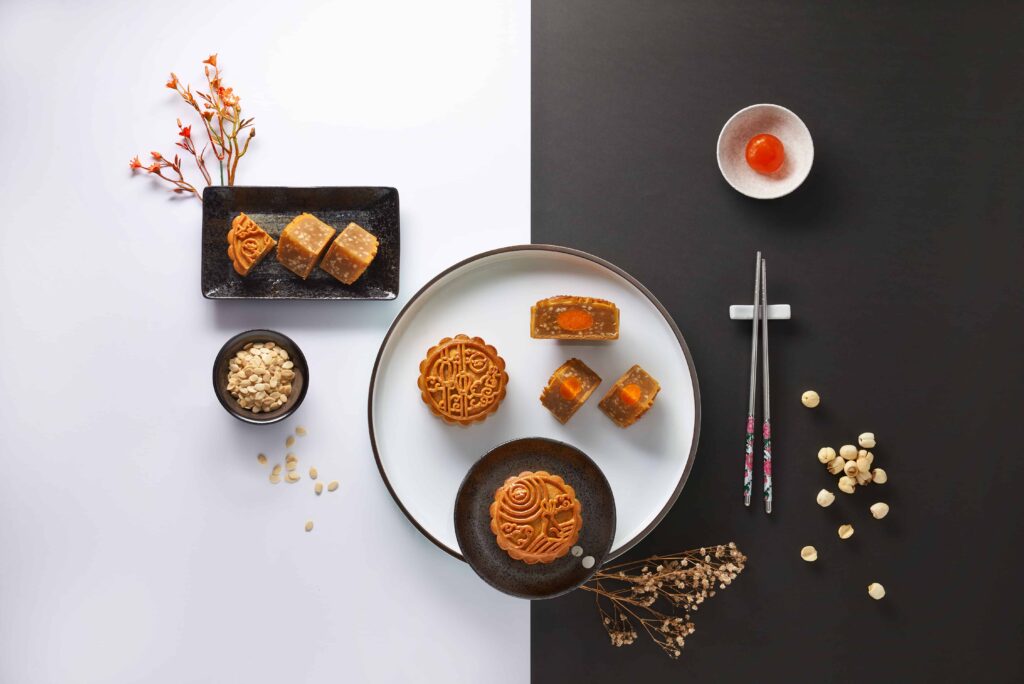 The traditional Cantonese-style mooncake is the most common.
This classic offers a taste of nostalgia and is the perfect balance between sweet and savoury.
Mdm Ling Bakery's is made with a low sugar recipe, with mildly smooth white lotus is mildly sweet and yet tastes earthy with the crunch of melon seeds and/or salted yolk.
Contemporary Mooncakes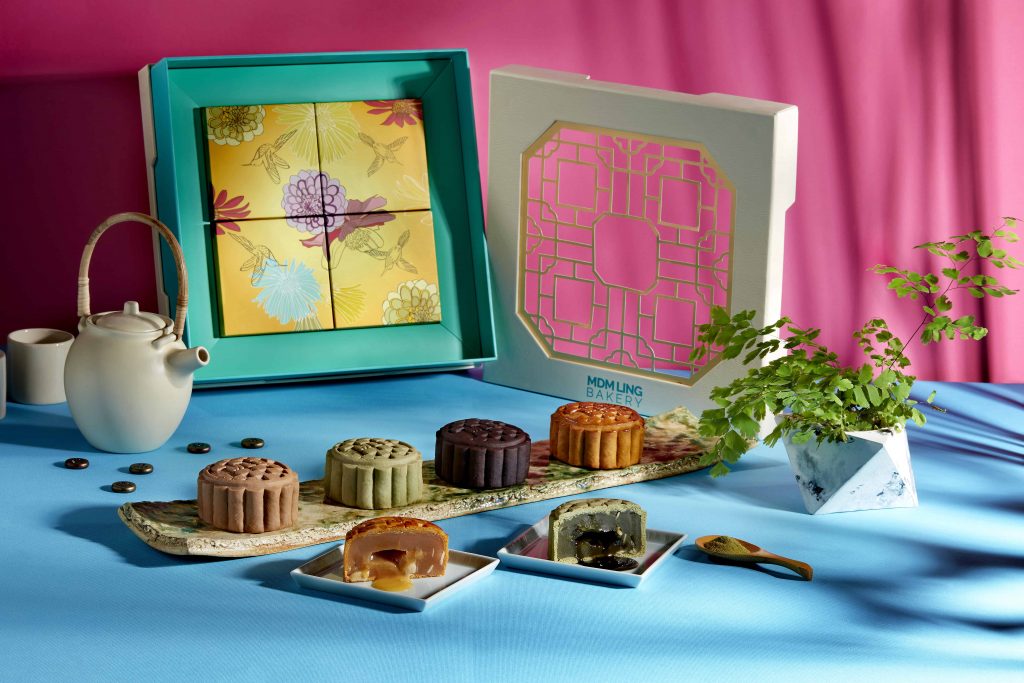 We used to associate ice cream and snowskin mooncakes as modern, but we've since seen even more contemporary versions.
For example, the lava mooncake is one of the latest trends in the market.
With a molten centre flowing with creamy custard, the mooncakes are transformed into unique delicacies that please the young and old.
It's definitely hard to resist flavours such as Japanese Matcha, Belgian-Italian Chocolate Hazelnut, Hong Kong Salted Egg Yolk Custard and Nanyang Coffee Caramel.
In addition, there are mooncakes inspired by Chinese desserts, such as Orange Peel Red Bean, Longan Dan Feng Tea, Osmanthus Goji Berries and Peanut Sesame Paste, which levels up the nostalgia.
One can also find fusion versions such as the unique kueh lapis mooncakes where multi-layered goodness is wrapped with traditional handcrafted mooncake skin.
Moon Viewing
Loved ones gather to view the full moon, a symbol of family reunion in Chinese culture, as the moon is known to be the brightest and most beautiful on the night of the Mid-Autumn Festival.
Even if they are apart from each other, everyone can appreciate the same moon wherever they are.
Displaying Lanterns
Lanterns play a big part in the Mid-Autumn Festival.
Every year, lantern displays illuminate Chinatown, Gardens by the Bay and Chinese Garden, creating a festive atmosphere across Singapore.
Locals and tourists get together to catch the lantern walks and cultural performances, which only occur during this special season.
How Other Countries Celebrate Mooncake Festival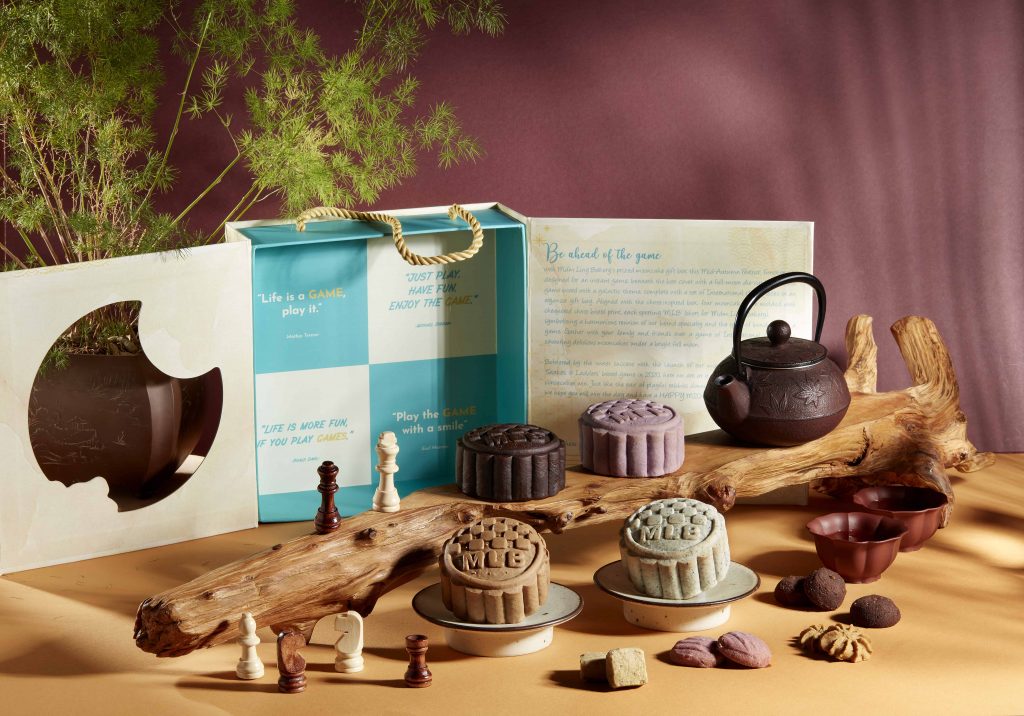 The Mid-Autumn Festival is celebrated globally, and not just in Singapore.
While mooncakes are enjoyed in countries such as Thailand and Malaysia, others have their own traditions.
For example, Koreans celebrate the festival, also known as Chuseok by feasting on traditional food, such as rice cakes (songpyeon) and rice wine.
On the other hand, Japanese celebrate the Tsukimi by displaying traditional ornaments and decorations made from pampas grass and eating Japanese rice dumplings (Tsukimi dango).
Where To Buy Mooncakes in 2022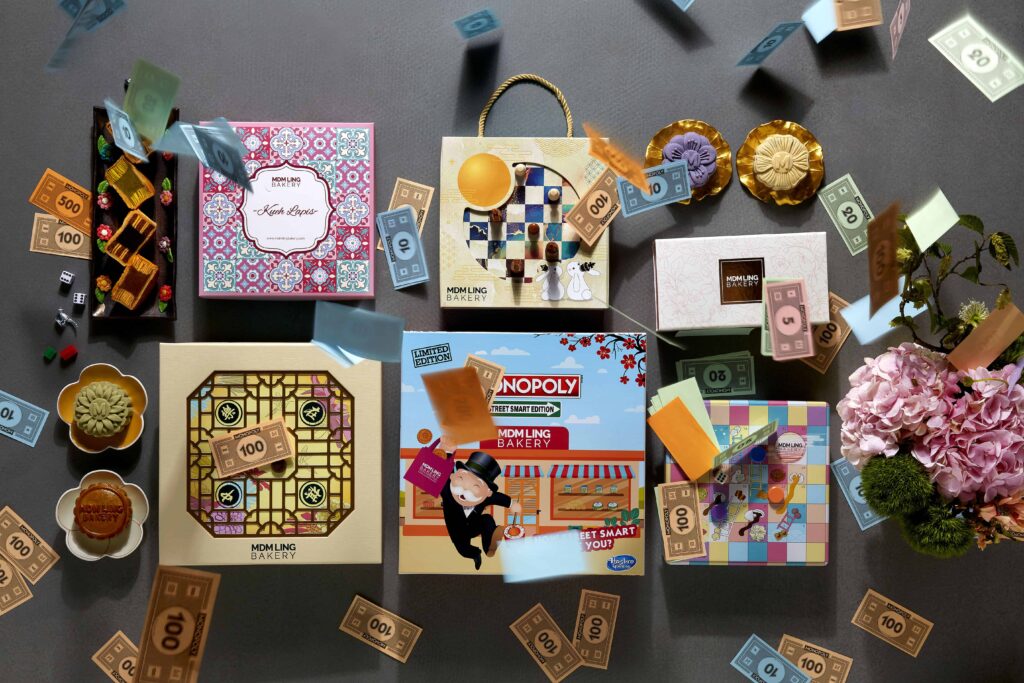 Mooncakes are usually available for pre-order from July, and you can find them at supermarkets or online retailers such as Mdm Ling Bakery.
Mdm Ling Bakery also offers free delivery for orders above $88, so you can get them delivered conveniently to your doorsteps.
You could also order via Grab or Shopee too!
Or, order yours from restaurants like JU Signatures, or artisan bakeries such as La Levain.
Not to forget, Takashimaya's annual mooncake fair, where you can try samples before purchasing!
So hurry and order now before your favourites sell out! Some brands might even offer early bird specials!